Boxing training camp

This boxing training camp is limited to a dozen dedicated athletes ready to take their bodies, physical conditioning & mental toughness, and punching power & accuracy to the next level.  No prior boxing experience is necessary but a solid foundation of conditioning is required. 

Foundation Boxing Club's
"How2Boxing Training Camp"

How2Boxing Training Camp (Day 2)

How2Boxing Training Camp (Day 1)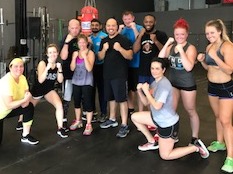 When: Fridays from 5:30 - 7:00 P.M. (July 28 - September 1, 2017)
Where: The Foundation "Motown" (3800 River Drive Ste 1, Moline, IL. 61265)

A Total Body Workout to Help You:

Learn and Improve Boxing Fundamentals (Punching, Footwork, and Defense)
Develop Explosive Power (Upper and Lower Body)
Increase Muscular Endurance (Upper and Lower Body)
Improve Cardiovascular Endurance and Stamina
Strengthen Abdominal Conditioning, and Muscle Density
Enhance Balance, Hand-Eye Coordination, and Body Awareness

These 90-minute Boxing Training Camp Sessions will Include:

World Class Technical and How2Boxing Instructions and Demonstrations
Partner Work and Skill Development
Upper and Lower Body Plyometric Training
Balance and Stability Footwork Drills
High Intensity interval Training and Bag Drills

How2Boxing Training Camp Investment:

$150 for Non-Foundation Members
$130 for Foundation Members
Sign-up at the Foundation to participate in this training camp. Limited to 12 athletes. Foundation members let Brandon know if you want him to just put this on your account. Non-Foundation members can pay, cash, check, or credit at the Foundation. Office hours are Monday - Thursday 4:00 - 6:00 or by appointment. Call (309) 278-8029